Vale Ian McGregor
It is with great sadness that we note the passing of Ian McGregor.
Ian was our Treasurer from 2009 to 2019 and a critical part of guiding our committee through his experience and commitment. 
Separate to his work on the committee, Ian volunteered for over ten years at the cafes. He enjoyed working with the other volunteers as well as spending time talking with our clients. Ian also spent a lot of time doing the small things are often unheralded and underappreciated in charities but they make a huge difference.
Everyone on the committee will miss Ian's humour and his passion for living life with his wife Sue and their three daughters.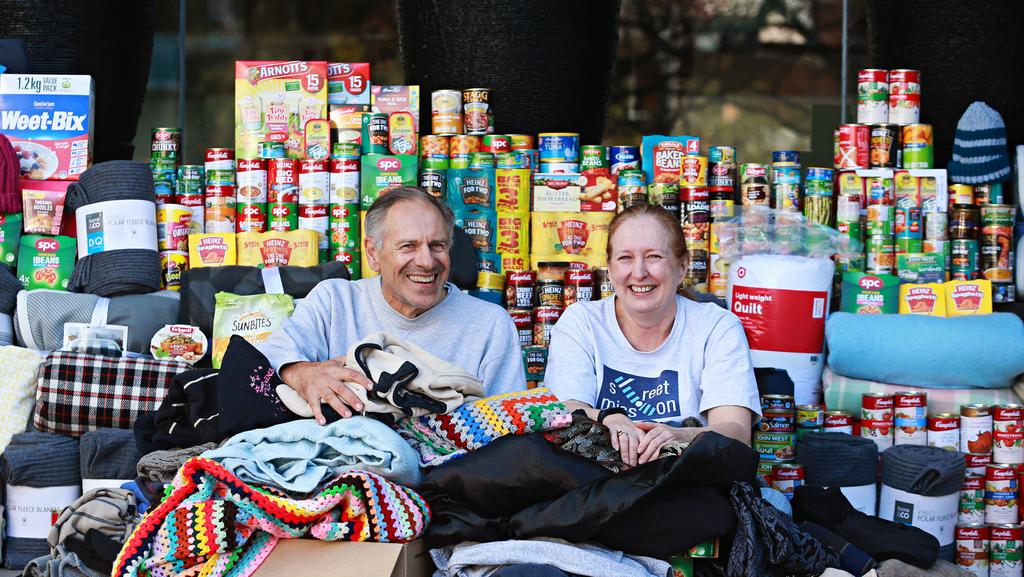 Ian McGregor and president Lynette Favelle. Picture: Adam Yip
Hearty donation helps those in tough time
---
CHRISTMAS in July came early to not-for-profit charity Street Mission, with volunteers receiving a hearty donation the month before DoSomething Day.
In the lead up to the annual July 25 event — an initiative of the DoSomething Foundation, NewsLocal and Your Local Club – Dee Why RSL Club employees worked tirelessly to raise donations for the volunteer-based organisation.
As a result, club executive manager community Shelia Malone said hundreds of non-perishable canned goods – including tuna, spaghetti and soup – warm clothing and blankets were donated in June.
DoSomething Day celebrates the work of volunteers and highlights those who give back to their communities by spreading kindness. It is an opportunity for everybody to volunteer to help others on the day.
"It was really lovely to see the response we had for our drive from our staff, the community and Oceangrove, the retirement village next door," Ms Malone said.
"I did not do a count, but we had hundreds and hundreds of cans, and there was an enormous amount of blankets too."
"It was really heart warming to know there are people out there looking for a reason to give back – you just have to point them in the right direction and our local community always seems to want to help."
Street Mission's president Lynette Favelle, who has been involved with the organisation for the past nine years, said Dee Why RSL Club's donations would go towards helping an average of up to 70 people accessing the Street Mission Cafe at Dee Why and Balgowlah each week.
Ms Favelle said Street Mission also provided clients with information and links to other charity organisations.
"Our primary role is running the soup kitchen," she said. "We provide meals and clothes to people who are doing it tough, and we have clients accessing our service for all different reasons. "Not everyone is sleeping rough or in cars."
While Street Mission was always open to having more volunteers and donated goods, Ms Favelle said the service was constantly in dire need of cash donations.
"We always need money to buy groceries to make meals for those who need it in our kitchen and we don't have any government funding," she said.